How to Install Mosaic Tile
A Step-by-Step How-to For Installing a Classic Cafe Style Tile in your Bathroom
This tile project almost did me in. I had never installed tile before and I made a LOT of mistakes. But you know what, that's part of the DIY process and I learned a bunch so that I could teach you how to install mosaic tile too!
This room was previously covered in linoleum. Below are the powder room 'before' images. This tiling project is just one step in updating this bathroom.
If you want to see more of my home before all the renovations, check out this Tour de Palmetto.
I was so ready for a new space but I wanted a style that would withstand everchanging trends. I chose these mosaic tiles because of how they can be customized for your space, plus the tile was on sale at The Home Depot!
Note: Affiliate shopping links are provided for your convenience. By shopping through the links on my site, I will earn a small commission at no additional cost to you. Thanks!
SUPPLIES
Cement Board
Thinset
Grout
Sealer
Diamond-Tipped Blade + Saw
Face Mask
Scissors
A bucket
LET'S GET STARTED!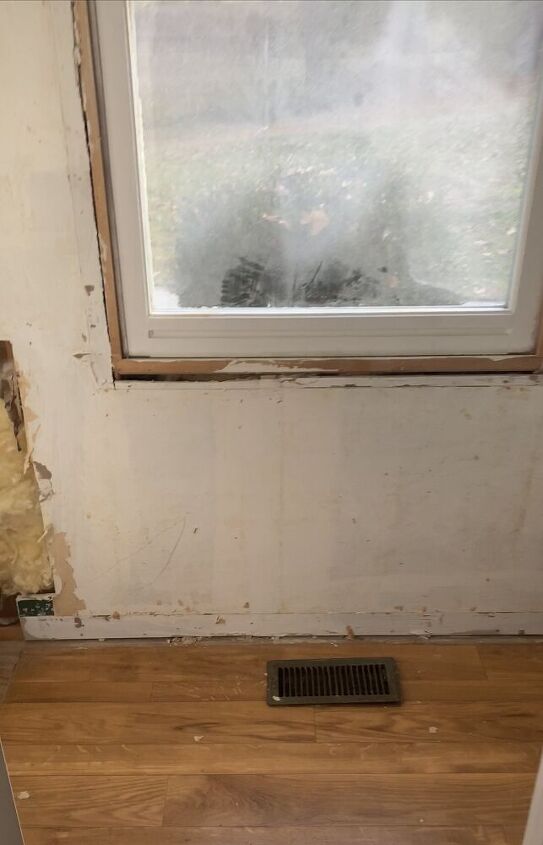 1. It's important to start with a clean slate. Remove baseboards and door trim and anything in the way
2. Including the toilet! Be sure to store it somewhere if you intend to reinstall the same one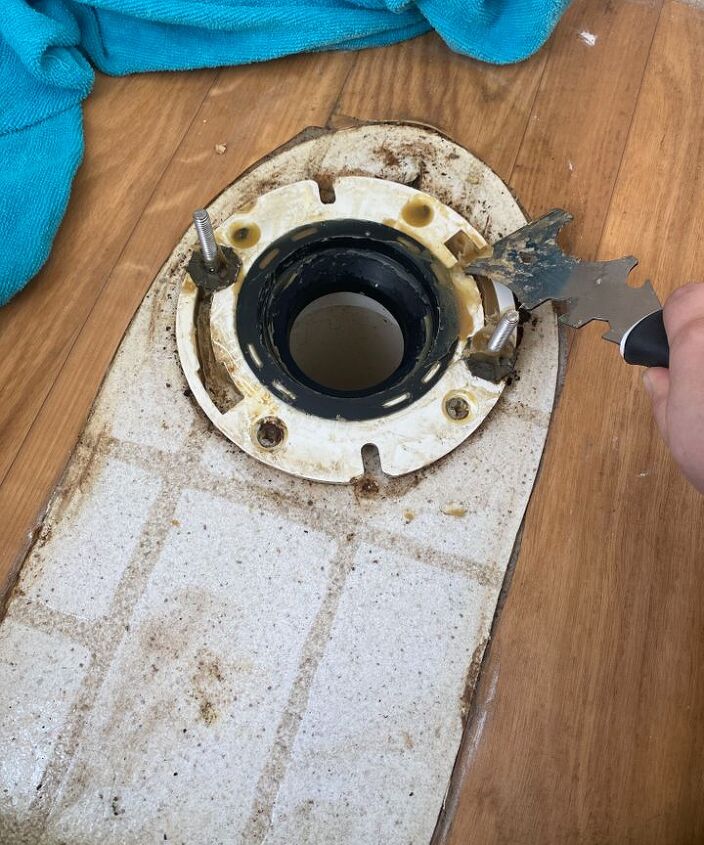 3. You'll need to replace the wax ring when you reinstall the toilet so I cleaned off the wax ring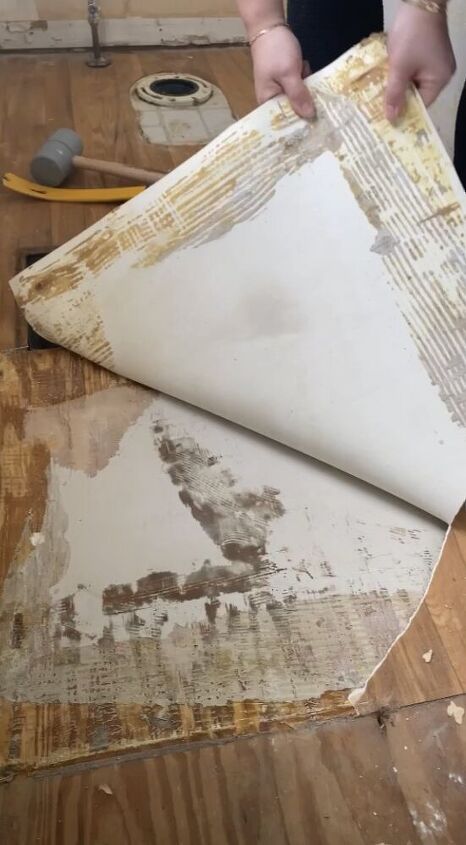 4. Next, remove the existing floor. I chose to remove the laminate instead of tiling over it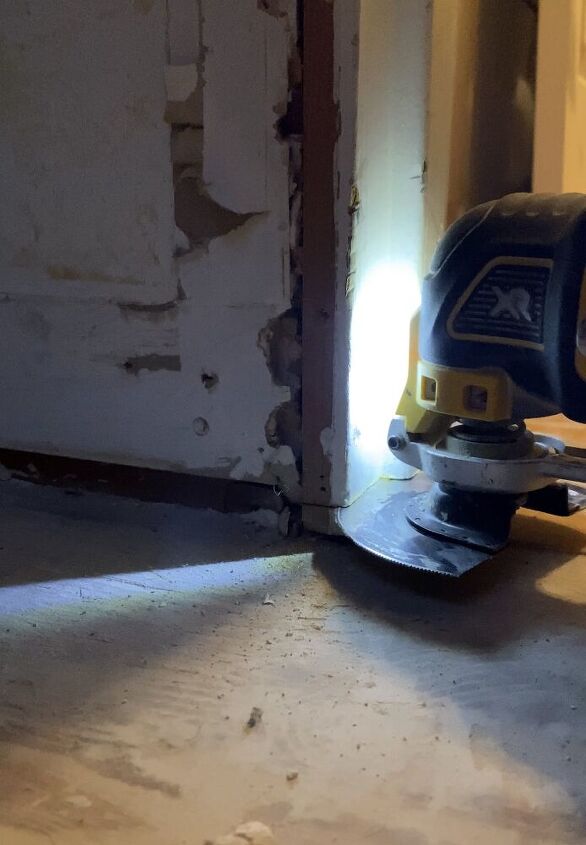 5. The tile and cement board need to fit under the door frame so you may need to trim it to make room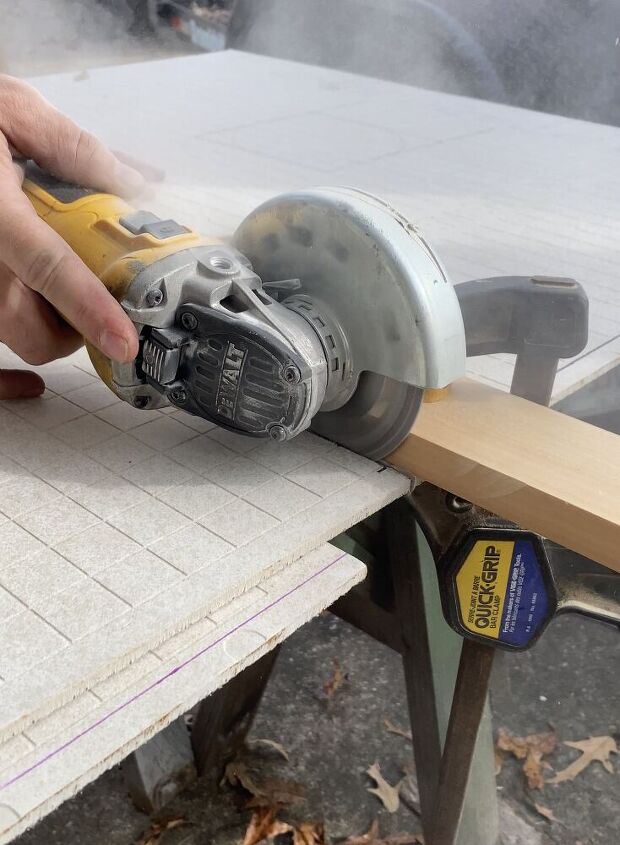 6. Next, cut the cement boards to size! Triple check all your measurements and use a strong blade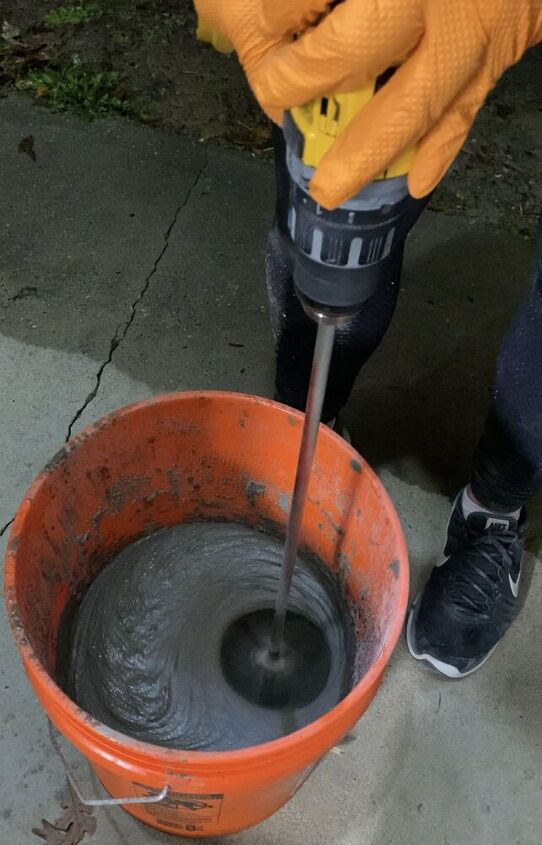 7. Follow package instructions to mix the thin-set. Consistency should be similar to pudding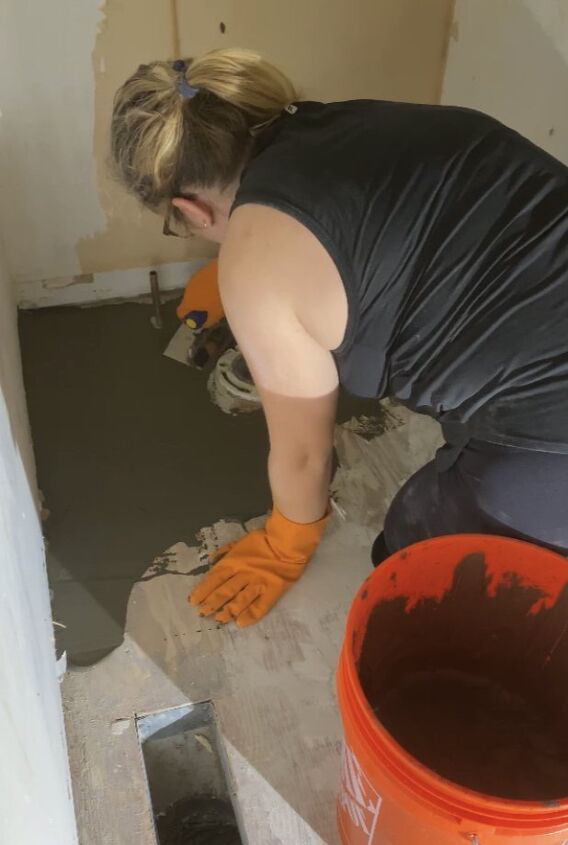 8. Start applying with the smooth side of a trowel then grooves before you put the board(s) down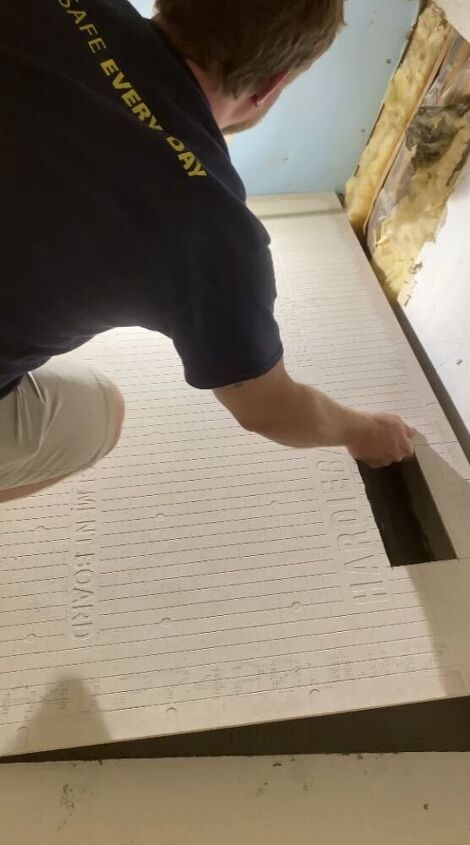 9. Next screw it down every 8″ using cement board screws (not pictured here, oops)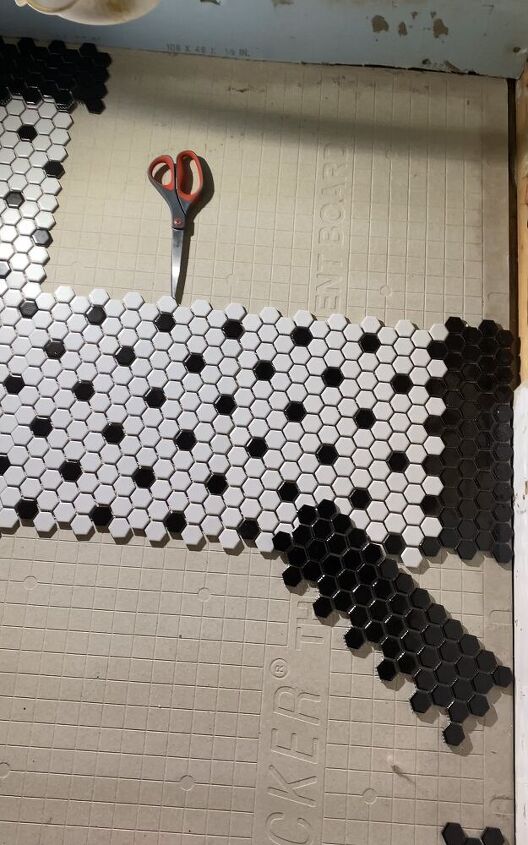 10. Next I dry-fit and cut all my mesh sheets to size to get the pattern and space that I needed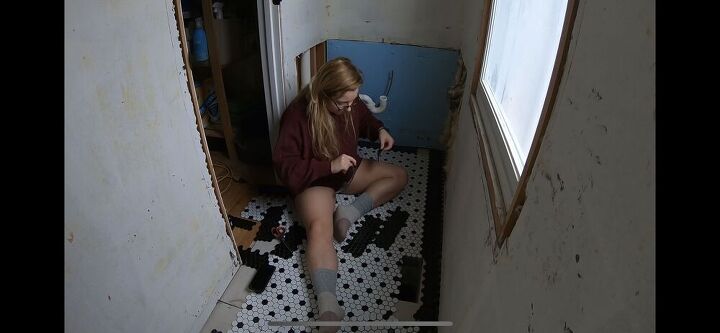 11. It takes time to get the pattern just right but it's worth it to not have to cut while thin-set dries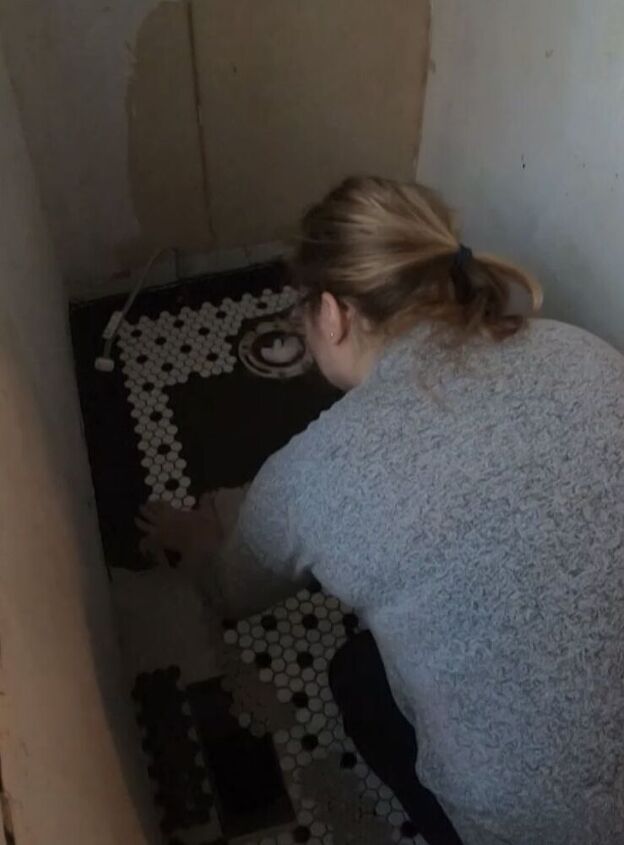 12. I recommend starting in the middle and working your way out. I had a TON of spacing issues here. See how I'm starting from one end?
13. Starting from the ends and working my way in resulted in a ton of gaps and irregular spacing. Starting at one end and working all the way across, in one direction, or starting from the middle and working outward will save you from having gaps like this.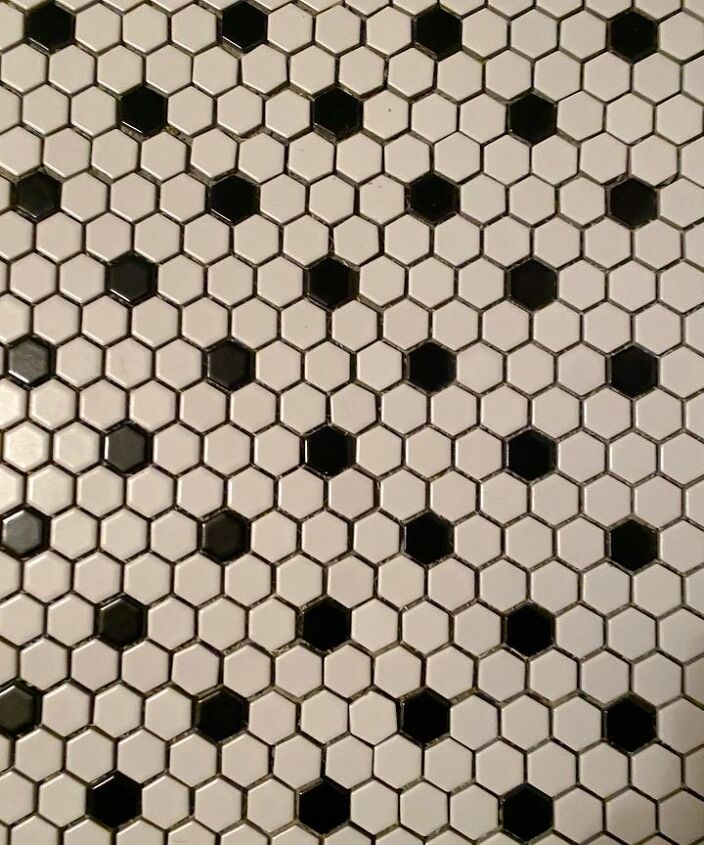 4. With tile this small, the spacing may get weird where sheets meet, I recommend using spacers!1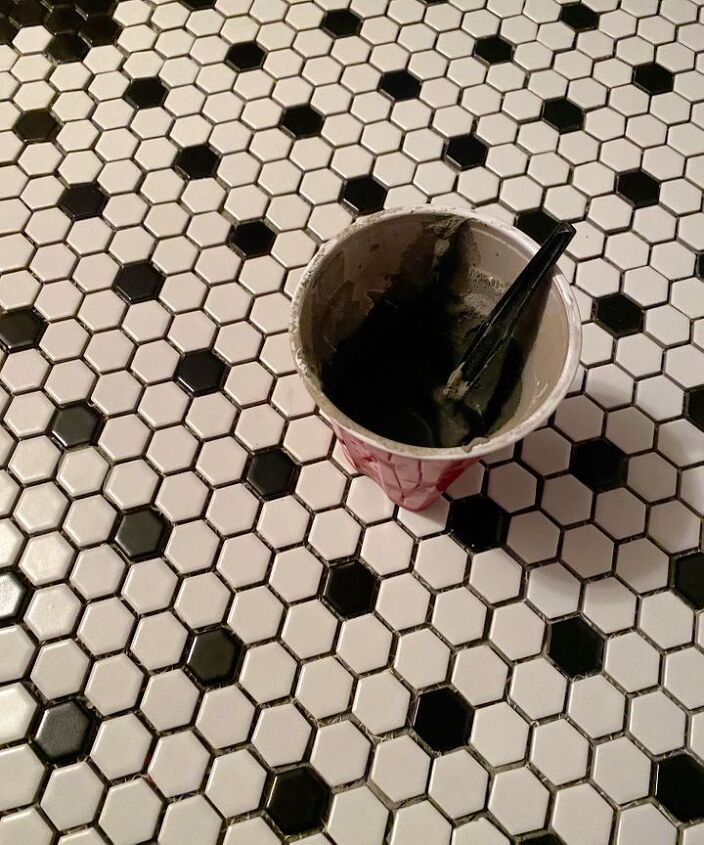 5. Trying to fix my spacing issues caused tiles to pop up and needing to be re-secured with thin-set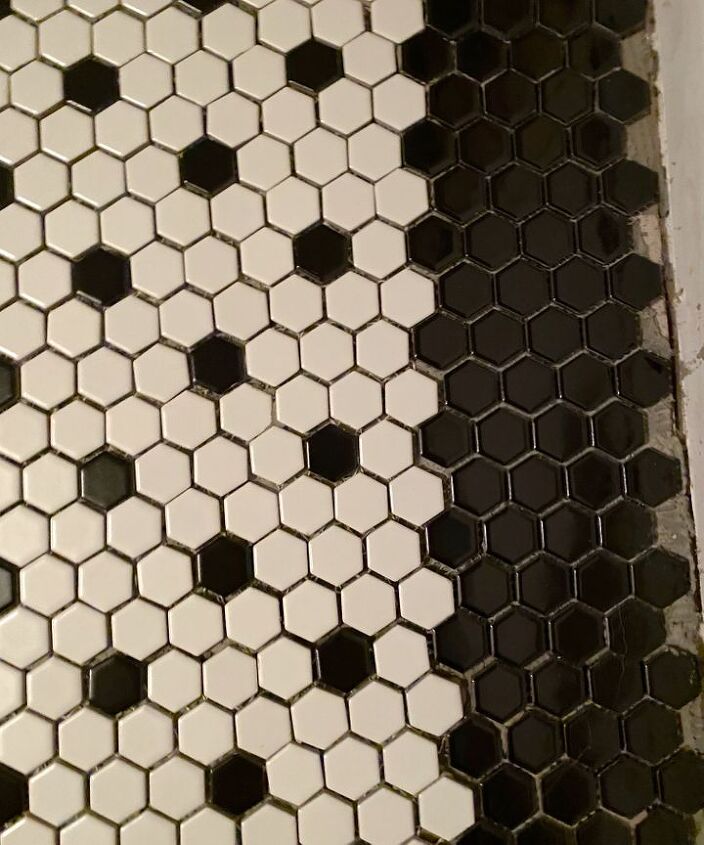 16. At this point, I was frustrated/disappointed but keep going! I promise it's not as bad as you think!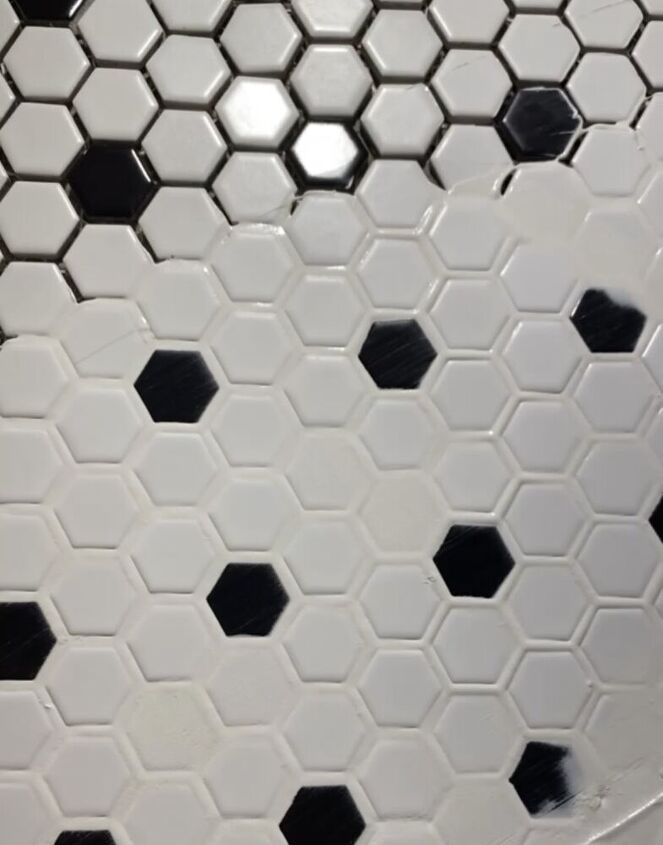 17. Grouting is where the magic started to happen
18. This grout float is what you use to apply the grout. It's got a rubber base to protect the tile. I started from the outsides so that I had a place to stand/crouch and reach the far ends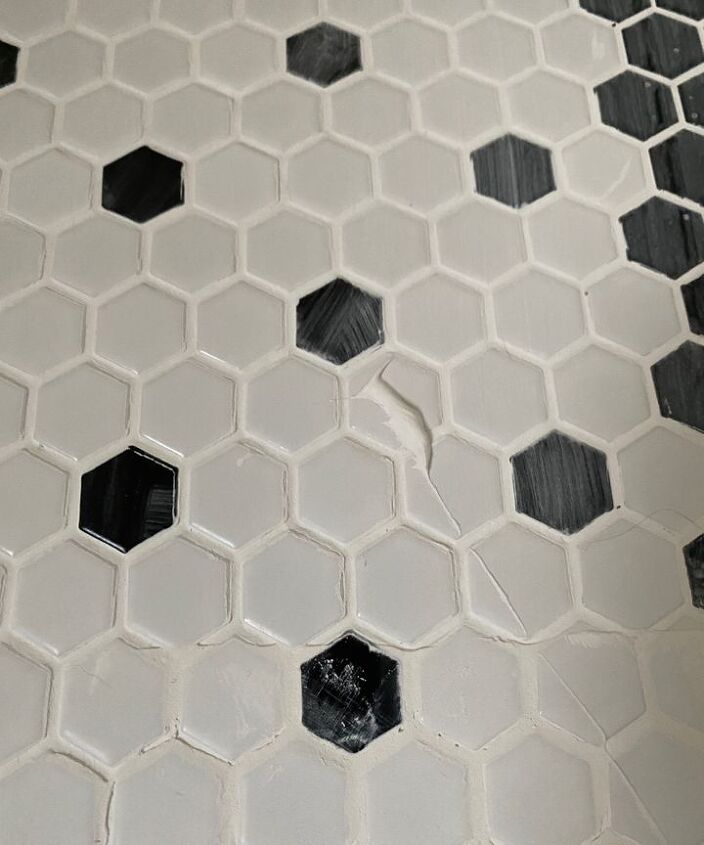 20. Be sure to wipe away all excess grout or you will spend hours scraping it after you dry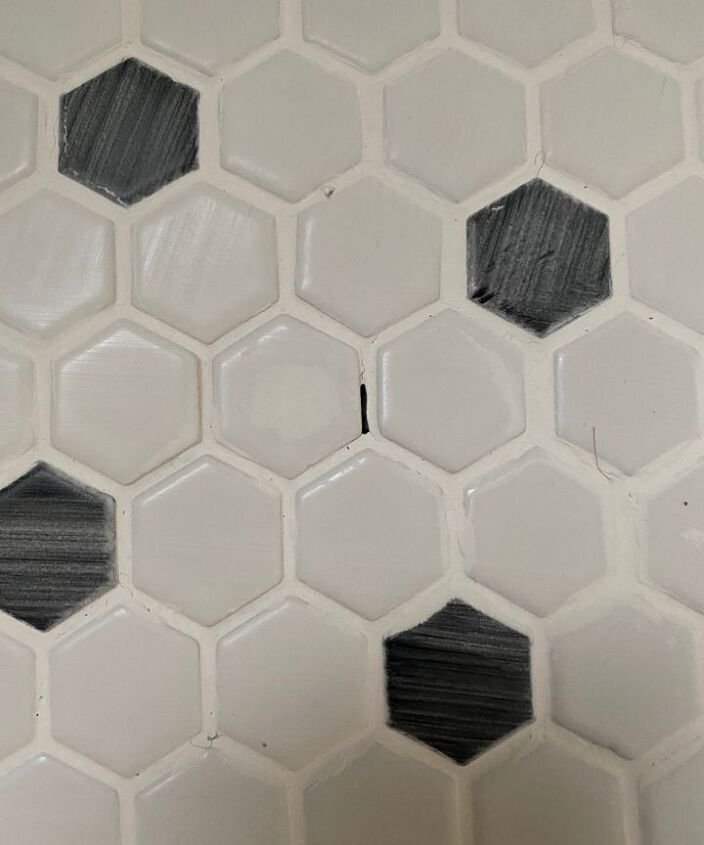 21. Don't wipe too much grout between tiles and remember that you may have to come back to fix air holes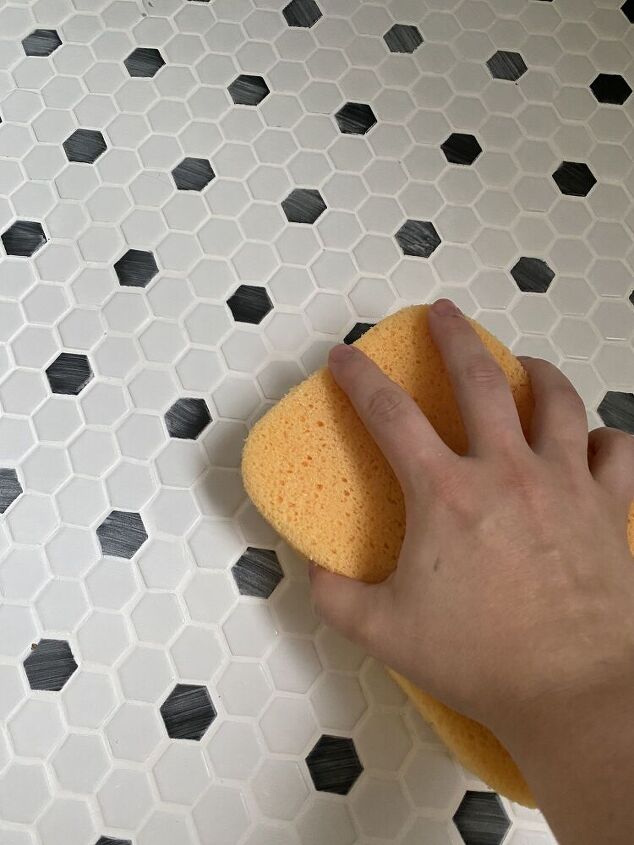 22. Wipe away excess grout 20 minutes after application. Wipe again after it sets.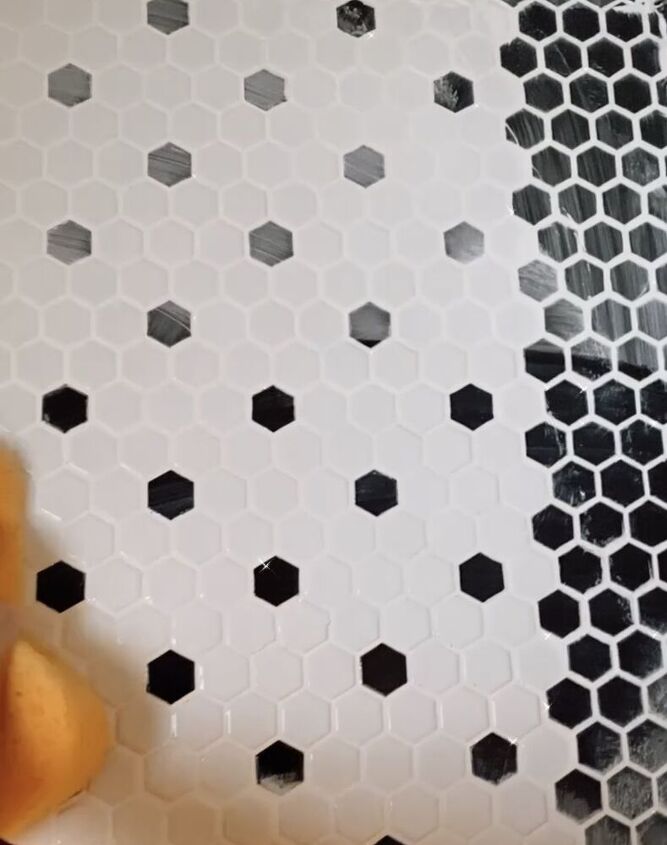 23. You may need to wipe, flip the sponge, wipe, clean the sponge and do it all again to get the tile perfectly clean. See the difference?!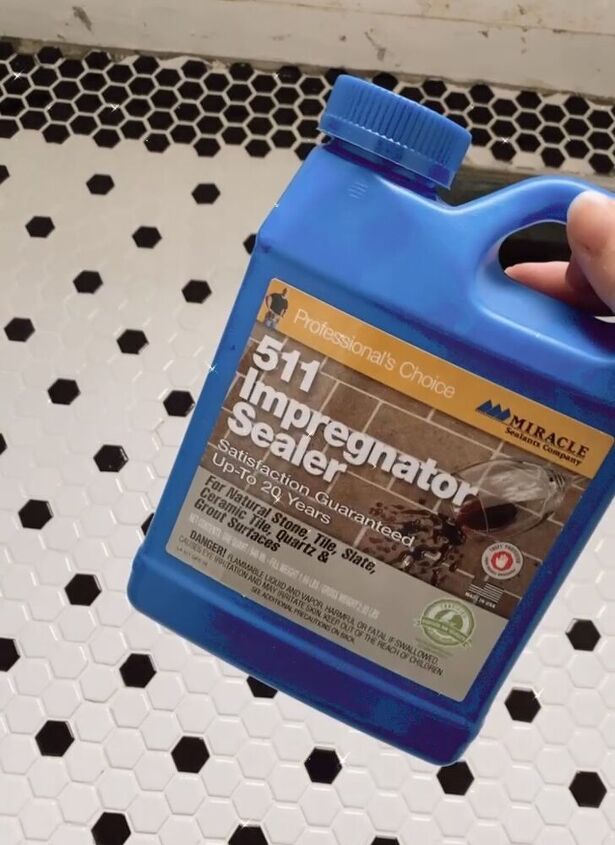 24. White grout is prone to staining. Using a grout sealer will keep it looking new!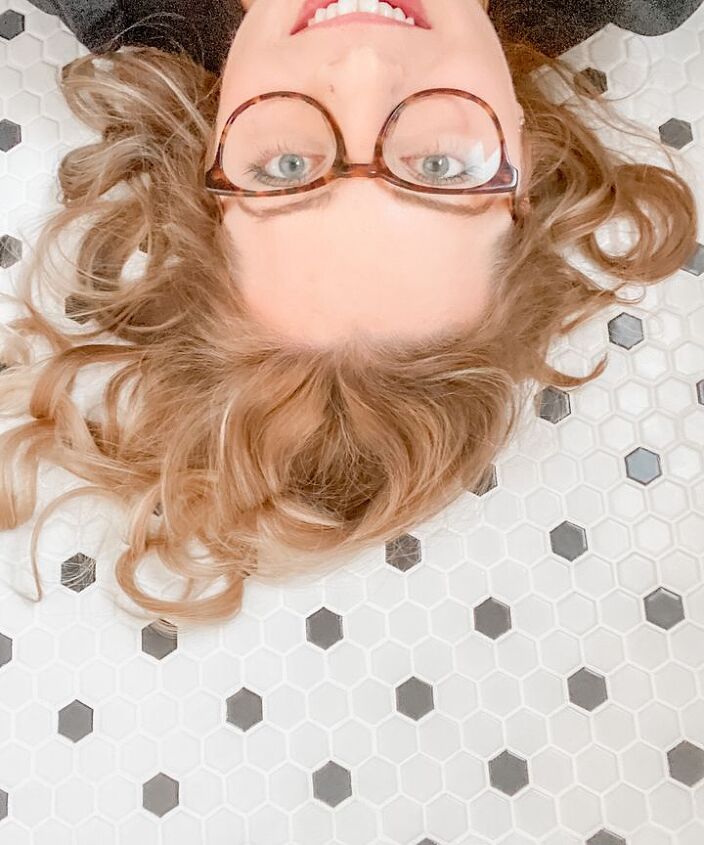 25. All done! Be proud of yourself cause that was really hard work! Now you (and I) can finish the rest of our bathroom renovations!
It was such a long, and sometimes painful, journey. Tiling is not necessarily hard, it just takes a couple of times to get into a groove. I've learned so so much and I'm excited for my next tiling project!
LOOK HOW GOOD IT LOOKS!
It was such a long, and sometimes painful, journey. Tiling is not necessarily hard, it just takes a couple times to get into a groove. I've learned so so much and I'm excited for my next tiling project!

FAQs
Are mosaic tiles hard to install?
Yes and no. If you are placing all the tiles individually, it could be incredibly time-consuming and frustrating if you can't get the spacing right. Even if you are using tile sheets with mesh backing, spacing can be frustrating for many people. Just have patience, use spacers, and focus on one tile or sheet at a time.
How do you install mosaic tiles with mesh backing?
One of the greatest benefits of the mesh backing is that you don't have to deal with individual tiles. You install the mesh backing tile sheet like you would individual tiles. I recommend finding spacers that match the sheets and working one sheet at a time from the middle of wall out to the ends.
How to install mosaic tile on a bathroom floor?
This varies based on what tile is and subfloor you use. My subfloor is plywood. I cleared the surface, applied thin-set, and laid 1/4″ cement board cut to size and screwed down every 8″ with cement board screws. After that set, I applied thin-set with a 3/8″ v-groove trowel and laid each mosaic tile sheet one at a time and triple-checked my spacing. Slight errors in spacing at one location can wreak havoc 3 feet further into the room as all the little errors compound.
What are mosaic tiles used for?
You can use mosaic tiles for many different applications. Mine is for a bathroom floor but it could be a floor elsewhere, on a wall in a shower or bathroom, and as a backsplash in a kitchen.
Where do you start laying tile in a bathroom?
I cut all my mesh and laid out all my pieces before I started and I would recommend doing the same. Starting in the middle of the back wall and work your way outwards. I made the mistake of starting at 2 ends and trying to meet in the middle. Plus, you always want your tile pattern centered on something. Most every designer will recommend centering the pattern on the bathroom vanity.
What do you put under tile in a bathroom?
If it's a bathroom floor, I would typically have a layer of thin-set on my plywood subfloor, 1/4″ cement board, thin-set again, then the tile with grout and grout sealer. A shower might be different. You may want to add a liquid latex over your cement board to really make sure the shower is sealed.
Why is tile installation so expensive?
I have both installed tile and hired a professional and I really feel for them. Being precise takes a lot of skill but the biggest thing is labor. Laying tile is incredibly labor-intensive. You are on your knees for hours, shifting your weight to make sure you don't ruin your tile. It is also expensive because the tile installation professionals invested in the best tools for the job. Tile saws can be pricey so it's important that they include the cost of their overhead in their quote.